---
The Story of Porkchop Express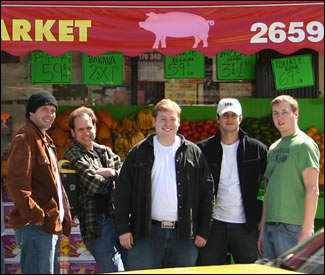 Porkchop Express (from left):
Kevin Kalahiki - Bass
Kitt Thompson - Drums, vocals
Collin Conoley - Vocals, ukulele
Brian Hamilton - Guitar
John Brunn - Guitar
Sarah Nelson (not pictured)- Fiddle, vocals
Porkchop Express is a San Francisco Bay Area alt country band that has been playing together since 2002. They take the gristly scraps from the American traditions of folk, outlaw country, and rock 'n roll, push it through a meat grinder, give it a crash course in honky tonk and put it on stage for all to enjoy. Their sound is made up of country vocal harmonies; soaring fiddle work; a punk inspired rhythm section; noisy, garage-rock guitars and a ukulele for that extra dash of machismo. The end result has been called "Country music for folks who don't like country music." The guys think that everyone likes country music, they just haven't heard the right kind yet.
Lyrically and sonically PCE is influenced by Gram Parsons, The Byrds, Uncle Tupelo, The Gourds, Kinky Friedman, Lucinda Williams, The Jayhawks, early Wilco, and The Bottlerockets. But most of all they feel swept up in the wonderful Americana scene in the San Francisco Bay Area. Bay Area twang bands range so far across the spectrum, from traditional blue grass to heavy metal death-country, that Porkchop Express has ample freedom to enjoy their twangy, lighthearted songs as well as allowing them to get into some darker material about wife-shootin' and such.
Though the band is best known for combining hilarious lyrics with catchy melodies, don't think you can label them as a joke band and call it a day. The band and their songs have matured over the years and they're wise enough to know that bad news is best greeted with a smile, handed a drink, and then dragged out back at the end of the night to be buried.
They've self released four CD's: "The Clock Radio Sessions" in 2004; a six song EP entitled "All You Can Handle" in 2006; and a two song holiday disc named "Yule Logs and Sexy Hogs"; and most recently a ten song album entitled "Fault Lines and Good Times" released August, 2009.
PCE on the Airwaves
Here's our interview on Mike Bond's Bottleneck Cafe' show.

What Folks Say About PCE
"It's these original twists on familiar themes that bring the listener back to the CD for repeated plays. Many of the songs do not click on first listen but as we decipher them song by song, the porkchopian gestalt begins to permeate our consciousness like the afterglow of a hayloft tryst." Read the full review
--Hicks With Sticks

"Solid new album from local alt-country veterans. A common thread of ironic reflection on the peril of adult life runs through songs like Bourbon and Bile and I Shot My Wife (Again). With a sound that's a little bluesy, a lot twangy, and a whole ton of country and some damn funny lyrics, it's a witty little slice of Americana."
--East Bay Express