Fault Lines and Good Times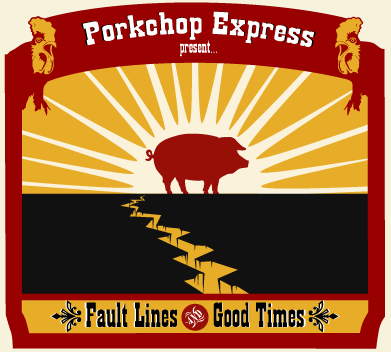 PORKCHOP EXPRESS SLOWS DOWN TO PRODUCE LATEST ALBUM
San Francisco alt-country band Porkchop Express explore gunslinging brides, alien abductions, and earthquake preparedness with their fourth release, FAULT LINES AND GOOD TIMES.
This ten-song album is their most far-reaching musical and thematic effort to date, bolstered by new member Sarah Nelson's violin and background vocals. Musically, the album continues Porkchop's trajectory of deliberately mottled arrangements and masterful vocals. From the guitar-drenched "Banjolero" and "Not That Type of Girl," to the propulsive fiddle work on "Christicles" and heavy bass groove of "I Shot My Wife (Again)," this California band mines new depths in their melodies and country twang.
The result of over two years of intermittent studio work, the songs cover terrain both serious and funny – the thematic throughline being a series of disasters or momentous events. In the last two years, the band members experienced hook-ups, break-ups, weddings, births; some of the best songs deal with the realities of growing older. There's a darkness lurking around the corners of some songs. The angelic background vocals of Kitt Thompson and Sarah Nelson wash serenely over the gritty, bad boy tale of "Bones of Glory," a song inspired by a friend who went from band inspiration to self ruination. The song combines toughness with tenderness; there's a lonesomeness in the twang that's quietly soulful.
Still, the band stays true to character, with their tongue-in-cheek delivery of strange facets of Americana. Listen to the honky-tonk pianos in "Bourbon and Bile," the lazy summer vibe of "Crop Circle Waltz" (about a narrator so heartbroken he's wishing for aliens to abduct him), and the sweet faux-tropicalia of the ukulele line in the title track "Fault Lines and Good Times" – it's mongrel, alt-country goodness at its best.
Track List:
Banjolero
Not That Type of Girl
Christicles
Bourbon and Bile
Fault Lines and Good Times
Crop Circle Waltz
Bones of Glory
Vacation
I Shot my Wife (Again)
War Woot
$7 (includes shipping and handling)